BOTANICAL EXTRACT FROM NATURAL GUAIACUM PLANT SPECIES IN A CONCENTRATED EXPECTORANT FOR DRINKING WATER SOLUTIONS
Concentrated expectorant for drinking water solutions.
MucuSol is a liquid product developed for use in the drinking water of your poultry and swine populations as an aid in reducing respiratory congestion from mucus (phlegm). In houses with lots of dust and gas and poor quality air, animals can develop a dry cough, which is not productive – meaning it irritates the respiratory tract further instead of dislodging phlegm and expelling the irritant. MucuSol is a stable water-miscible syrup that delivers more phlegm-loosening power to eliminate the congestion during respiratory problems.
The Benefits of MucuSol



Poultry and Swine
MucuSol contains the richest concentration of water-soluble guaifenesin, the most recognized expectorant for animal use. The potent expectorant increases mucus volume and thins phlegm in the airway. By pulling water into the respiratory tract, MucuSol lubricates and stimulates the flow of secretions, allowing cilia to carry irritants up and generating a hearty cough to send them out. Other benefits include:
Thins mucus, lubricates and drains respiratory tract
Makes cough more productive
Improves respiratory efficiency
Reduces breathing discomfort
Helps expel trapped irritants and infectious agents in mucus.
Most soluble form of the premier mucolytic agent Guaifenesin
The Features of MucuSol
No competitive product on the market today conveniently achieves the same level of active ingredient in the finished drinking water solution as Mucusol.
So this season you can breathe easier knowing your pigs and poultry can too. For more information on Mucusol, download the spec sheet by clicking the link in the right column of this page.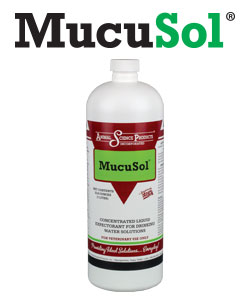 Additional Information and Related Articles on MucuSol®
Mailing Address:
Animal Science Products, Inc
PO Drawer 631408
Nacogdoches, TX 75963 - 1408
Physical Address:
3418 Rayburn Drive
Nacogdoches, Texas 75961
Phone & Fax
800.657.2324
936.560.0003
936.560.0157