Welcome to Animal Science Products


Gel-Pac® Permits Combining AviPro® Megan® Egg Salmonella Vaccine and Coccidiosis Vaccine for Hatchery Spray Application.
A principal method of reducing Salmonellosis in poultry and the vertical transmission of Salmonella to poultry products for humans includes…

Avoiding sub-clinical coccidiosis in poultry is an important element of efficient production.

Check our video out on
Gel-Pac application.
Enables Hatchery Vaccination with IB and Coccidiosis in Combination
Some things are just better together…nuts and bolts, socks and shoes, pen and paper…all better when combined.  But until recently, combining poultry coccidiosis vaccines with other live biologicals was not a good idea. But that has changed. 
What kept us from conveniently delivering cocci vaccine with other biologicals like bronchitis (IB) or Newcastle (ND) vaccines in the same spray solution? The answer is oxidation.  It's not that the vaccine organisms themselves aren't compatible; all three of these vaccines function great when consumed orally.  The problem is that some of the additives vaccine manufacturers put in cocci vaccines will threaten others unless they are properly stabilized. ASP has developed an ideal solution.
Delivering Optimal Suspension
Gel-Pac, from its initial adoption in the poultry industry, has been most commonly used to deliver orally active probiotic bacteria to young birds in commercial hatcheries.  Easy to prepare, adaptable to existing equipment, and voraciously eaten by hatchlings, the gel spray is popularly applied to birds as early as day-of-hatch to get the most rapid gut colonization possible on this side of the egg. Download the PDF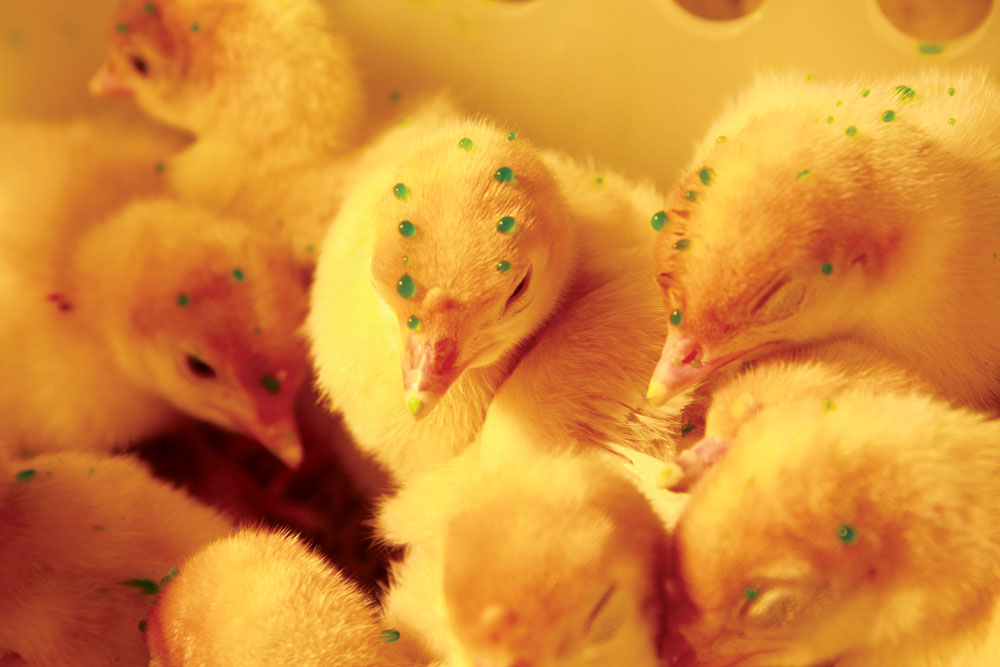 Gel delivered vaccines, probiotics, and nutritional ingredients for poultry
Gel-Pac is a novel product delivery solution for newly hatched chicks and poults.  Gel-Pac meets the needs of poultry hatcheries to introduce vaccines and nutritional products in a convenient and highly effective manner within hours of hatching.  Due to application difficulties, this has not been done routinely until now.  First developed as a delivery vehicle for probiotics, Gel-Pac can be used to deliver coccidiosis vaccines, prebiotics, phytochemicals, immune modulators, and the list goes on.  Gel-Pac also aids in chick hydration, a vital benefit when preparing the birds for transport.
Safe Feed, Safe Food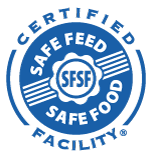 Animal Science Products, Inc., of Nacogdoches, TX, is proud to announce their recent Certification in the Safe Feed/Safe Food program of the American Feed Industries Association (AFIA). The Safe Feed/Safe Food Certification Program is a voluntary, third-party-certified initiative designed for feed mills and feed and ingredient-related facilities in the United States and Canada. The program establishes comprehensive standards of excellence that go beyond existing regulations to show leadership and maximize food and feed safety.
Watch one of our customers latest Video advertisements in their local market.

SPRAY-VAC STABILIZES FROZEN POULTRY MYCOPLASMA
They are surprisingly harmful, considering they cannot live outside the host for more than a few days1. They are the Mycoplasma species, some of the most commercially relevant disease-causing bacteria for poultry producers. M. gallisepticum (MG) and M. synoviae (MS) owe their unique nature to a couple of key factors. First, they spread easily, being the smallest bacterial pathogens known for poultry. Second, they are extraordinarily fragile due to a specialized characteristic…they do not have a cell wall, only a cell membrane.
By themselves, Mycoplasma can hide reclusively in poultry respiratory tissues, harbored for life, and producing no noticeable symptoms. However they can, without warning and often when animals are stressed, blow up into acute, well-recognized diseases such as Chronic Respiratory Disease (in the case of MG) and Infectious Synovitis (in the case of MS)2. These diseases are complex because they result from interactions between the Mycoplasma and other respiratory infections such as Newcastle Disease Virus, Infectious Bronchitis Virus, and Avian Influenza.
Browse Our Videos
Use the Arrows to navigate the videos
International Hatchery Practice
Gel-Pac® Improves the Titer of Live Infectious Bronchitis (IB) Vaccine for Poultry Hatcheries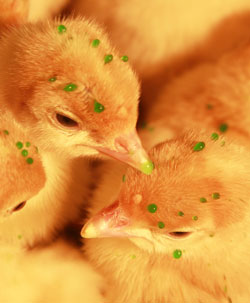 Live IB vaccines were originally developed and delivered by nose drop to poultry because, logically, the respiratory tract was the tissue we were trying to protect by a mucosal response.  However, eventually the economic pressure from high labor costs in developed poultry markets forced researchers to seek more cost-effective ways to deliver live virus vaccine and protect poultry.  During the 1950's the IB vaccine strains were confirmed as being viscero-active, meaning they are able to provide immunity and protect the respiratory tract from disease challenges even if they are swallowed, not inhaled.  From that point IB vaccines have been mass applied via both hatchery aerosol spray and drinking water.  Dosing by spray at day-of hatch is still favored over dosing by drinking water after placement because, among other things, earlier application provides earlier onset of immunity.
Beyond the time and labor savings, reducing the number of times a hatchery sprays chicks is desirable because each successive pass through a vaccine mist wets the birds and induces thermal shock. Three different vaccines are commonly sprayed in the hatchery; they are vaccines against coccidiosis, Newcastle disease, and IB.  When possible, hatcheries prefer to combine multiple vaccines in a single spray to reduce the number of passes and the amount of water that soaks the birds.  Another way to avoid soaking the chicks is to apply the vaccine in a firm gel spray.  Gel spray droplets rest on top of the feathers instead of soaking to the skin.  Chicks naturally preen the large gel drops and thereby pick up the vaccine in concentrated form, where it can directly generate immunity.
Breathtaking Production
R.S. Izard, M.S. PAS
Breathtaking…you have probably felt it…a word we normally reserve to describe an awe-inspiring scene of natural beauty or human endeavor. Suddenly unable to catch your breath at seeing a magnificently rewarding scene, it feels like you are unable to find the air to feed your lungs.
There's another loss of breath that is not so rewarding. Many people experience it in the form of asthma or respiratory congestion. There are a couple of causes of this congestion in people and our animals.
…it's a sticky subject!
It's the thick, adherent, gooey secretion from the upper respiratory tract that helpfully snares foreign material and protects the health of the deeper respiratory system. The foreign material might be irritating particles, or it could be infectious pathogens like viruses and bacteria. Trapping irritants, so far so good… but by itself, mucus cannot erase the problem of invading organisms or harmful particles.
New generation stabilizers improve Newcastle Disease vaccine performance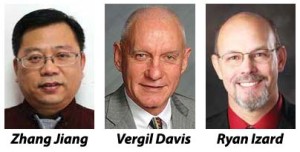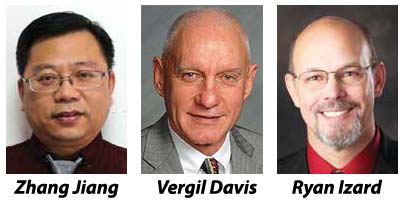 Asian poultry integrators increasingly rely on hatcheries to administer important vaccines. Pressure to adopt earlier vaccination strategies include injected, sprayed and in ovo programs, each method and antigen imposing its own particular burden application and risk of failure. ZHANG JIANG, VERGIL DAVIS and RYAN IZARD* discuss the potential of new generation stabilizer technologies to protect fragile Newcastle Disease (ND) vaccines from the harmful effects of chlorine. This can allow producers to use ordinary tap water or well water to make spray vaccination more convenient and efficient.
Articles & Press Releases
Animal Science Products, Inc. Welcomes Agrovet Alliance from the UAE for Facility Tour in Texas Nacogdoches, Texas – Animal Science Products, Inc., an industry-leading manufacturer and global leader in vaccine stabilizers, gel application products, and non-antiobiotic...
read more
Old Stone Fort Water-Soluble Poultry Products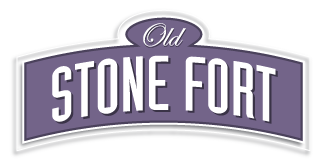 Designed for all poultry species, the OSF line of products is ideal to meet the needs of the backyard poultry producers.
OSF products supply supplemental nutrition often lacking in backyard production. OSF solutions include products to maintain:
Optimal bird healthProper digestionHealthy gut functionEggshell qualityProper hydration
Vac-Pac Improves the Stability of Argus® SC/ST Salmonella Vaccine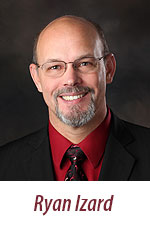 Merck's Argus® SC/ST is a prominent vaccine manufactured to prevent the pneumonia, diarrhea, septicemia and mortality in swine caused by Salmonella cholerasuis. It also controls another salmonella species, S. typhimurium, which is one of the common causes of food poisoning in people. Controlling these infectious bacteria improves swine production efficiency and can reduce the risk of human illness.
We are more than just great products – we're a family-owned company devoted to serving our customers.
Animal Science Products has been proudly serving its customers in the feed additives and animal health industries for over 30 years. From the small northeast Texas town of Nacogdoches, ASP has delivered the highest quality products and professional service to feed manufacturers and livestock producers around the globe. We do so through a company-wide dedication to our processes, quality-assurance, innovation and customer attentiveness. We invite you to take time to learn more about our history, our mission as a company, and our team. It is the combination of all of these elements that have made us an industry leader and trusted supplier of animal nutrition products.
Mailing Address:
Animal Science Products, Inc
PO Drawer 631408
Nacogdoches, TX 75963 - 1408
Physical Address:
3418 Rayburn Drive
Nacogdoches, Texas 75961
Phone & Fax
800.657.2324
936.560.0003
936.560.0157