UNI-SOL FEVER FIGHTING SOLUTION TO YOUR POULTRY AND SWINE
Uni-Sol delivers the highest concentration of Fever Fighting solution to your poultry and swine available on the market.
Uni-Sol® is a liquid antipyretic and anti-inflammatory for use in the drinking water of your poultry and swine populations. Uni-Sol aids in the reduction of fever and for mild analgesia.
The Benefits of Uni-Sol
Poultry and Swine
Uni-Sol blocks the production of prostaglandins, the body's innate response to the flu virus. By doing so, Uni-Sol:
Reduces inflammation
Reduces fever
Reduces swelling
Increases Lymphocytes to build cell memory for antibody production
The Features of Uni-Sol
No competitive product on the market today conveniently achieves the same level of active ingredient in the finished drinking water as Uni-Sol.
486g or just over 1lb of active ingredient in each liter.
For more information on Uni-Sol, download the spec sheet by clicking the link in the left column of this page. You can also download the full Uni-Sol Product brochure by clicking on the icon to the right.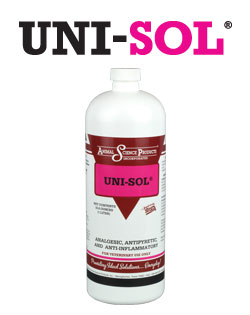 Additional Information and Related Articles on Uni-Sol®
Mailing Address:
Animal Science Products, Inc
PO Drawer 631408
Nacogdoches, TX 75963 - 1408
Physical Address:
3418 Rayburn Drive
Nacogdoches, Texas 75961
Phone & Fax
800.657.2324
936.560.0003
936.560.0157