What Makes Spray-Vac Spectrum So Revolutionary?
What Makes Spray-Vac Spectrum So Revolutionary?
Poultry see the spectrum of light frequencies differently than do humans. Because they can detect a broader range of lightwaves – 350nm through 750nm – they see peripheral colors that we can not even sense. Spray-Vac Spectrum transmits light frequencies from the entire avian visual range of colors, as well as amplifies the upper and lower frequencies to match the wavelengths poultry see more brightly.
How Does Light Frequency Effect Vaccination?
Spray vaccination droplets directly inoculate eyes, nasal and respiratory tissues, though birds gain more uniform exposure to a larger reservoir of valuable antigen by preening. Reflective droplets shining with the full spectrum trigger more intense preening, causing the flock to uptake more vaccine and at a faster rate. The birds focus on the highlighted vaccine droplets reflecting the fullest possible spectrum, visible in any light, including natural, incandescent, fluorescent, color-shifting LED, and HID. This innovation allows Spray-Vac Spectrum to stimulate more consistent vaccine uptake for more uniform vaccinations and greater flock security.
Advantages of Spray-Vac® Spectrum
New generation stabilizer especially engineered for poultry spray vaccines, including fragile bronchitis and mycoplasma vaccines
Increases the preening activity of your poultry flocks to help maximize immunization
Proprietary dye designed around spectral response of poultry
Increases the preening activity post-spray vaccination in virtually any lighting program
Immediate stabilization of the water
Rescues vaccines from the harmful effects of chlorine and controls pH in ordinary tap water or well water
Safer than distilled or deionized water as vaccine diluent
Balances electrolytes to nurture sensitive vaccines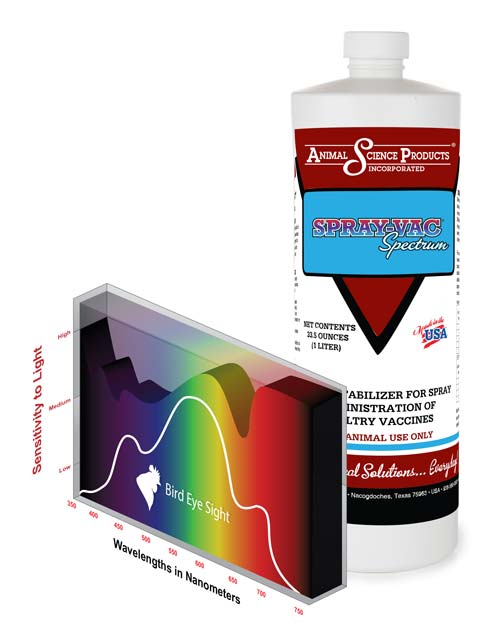 Spray-Vac Spectrum aids in the administration of sprayed vaccines for poultry. It is especially designed to prolong the viability and improve the effectiveness of reconstituted and diluted spray vaccines.
Before diluting vaccine in the spray solution, stabilize the water by adding 4 ounces of Spray-Vac Spectrum to each gallon (32 ml per liter) of spray solution when using ordinary tap water or well water containing up to 4 ppm chlorine (Cl).
Additional information and related articles on Spray-Vac Spectrum®
Mailing Address:
Animal Science Products, Inc
PO Drawer 631408
Nacogdoches, TX 75963 - 1408
Physical Address:
3418 Rayburn Drive
Nacogdoches, Texas 75961
Phone & Fax
800.657.2324
936.560.0003
936.560.0157