Gel-Pac® TECHNICAL REPORT
PROJECT OBJECTIVE
To determine the effects of concentration and temperature on the viscosity of Gel-Pac®.
COMMERCIAL SUMMARY
Animal Science Products' customers can benefit from having a well-defined gel viscosity profile, which is useful for fine-tuning gel spray formulas or sprayer design.  This report provides a matrix of gel viscosities, developed over a range of Gel-Pac® concentrations and water temperatures to assist in these design parameters.
EXPERIMENTAL PROCEDURE AND OBSERVATIONS
Three concentrations of Gel-Pac® in water were tested: 12.5 g/L, 25g/L, and 37.5g/L. These three concentrations were also added to three temperatures of water: 10°C, 24°C, and 38°C.
Materials
Lightning Mixer
600mL beakers
Water bath
Brookfield RV Viscometer
Gel-Pac™
DI water
Procedure
Heat or cool water to desired temperature using a hot/ cold water bath
Start mixing with sufficient shear to maintain a vortex (900-1150rpm, depending on Gel-Pac® concentration)
Start timer for two minutes, and continuously mix while slowly adding
Gel-Pac® powder over the timespan. Mix for an additional 30 seconds once all powder is incorporated.
Wait 5 minutes.
Test viscosity using a Brookfield RV viscometer at 20rpm.
CONCLUSIONS
The data collected for each viscosity measurement is listed in Table 1. More easily visualized in Figure 1, the viscosity of the Gel-Pac® solution decreases as the temperature of the water it was added to increases. This is evident across the usage levels, but is a more drastic effect the higher the concentration of the solution.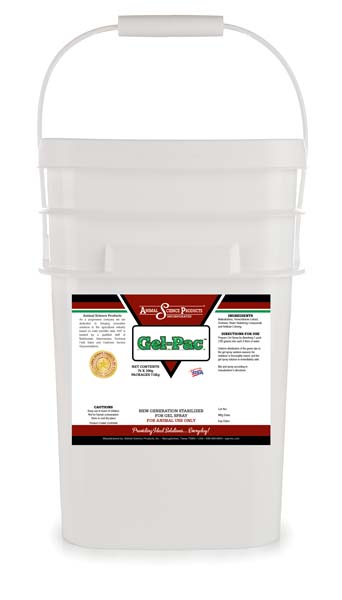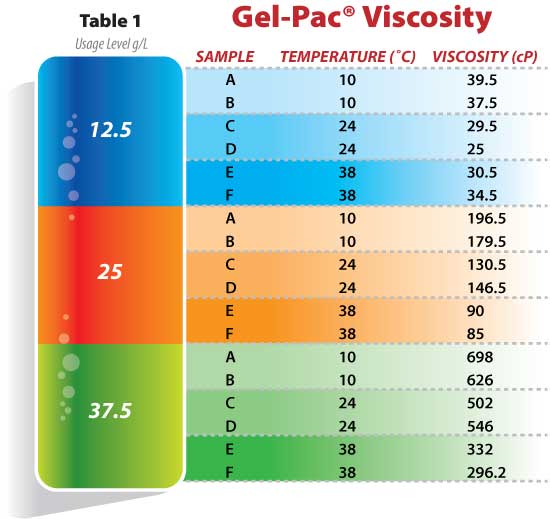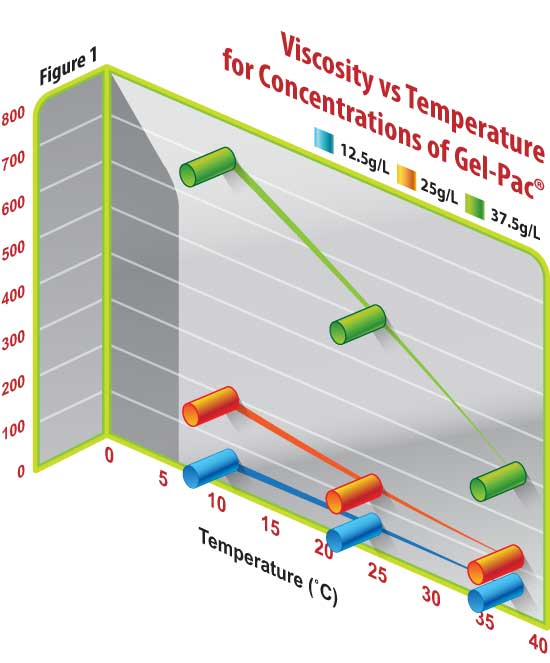 Additional information and related articles on Gel-Pac®