I'd like to start by wishing each of you and yours the very best of New Years. Every one of us here at ASP looks forward to continuing to serve you by providing the highest quality products and services.
With the arrival of 2013 came the first ever ASP IPPE International Poultry Seminar. As many of you know, Animal Science Products hosted distributors and their guests from 12 different countries at the elegant Chateau Elan in Atlanta, Georgia this past January 26-28.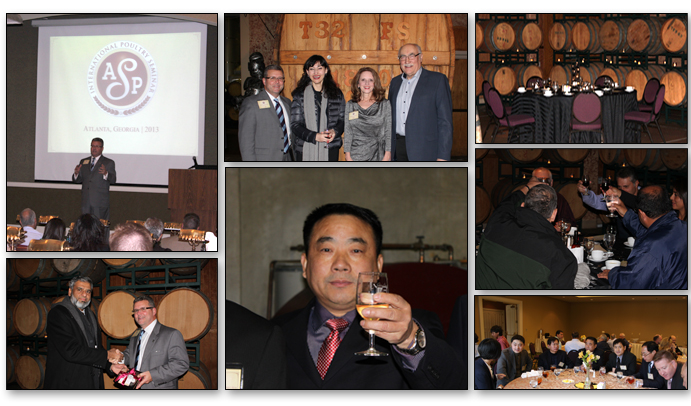 Guests arrived Saturday, the 26th and were shuttled to the estate where they joined the ASP team for a Welcome Reception. On Sunday, the 27th, the seminar began with breakfast followed by a full day of presentations. We were very honored to present four esteemed speakers at this year's seminar. They included:
• Paul Dubravec with Advance Trading
Commodity Fundamental Outlook – 
An Outlook of Factors Affecting Global Feed Input Prices
• Gil Warriner, Independent Consultant
Are You Getting Immunity When You Apply Your Vaccines?
• Karen Burns Grogan, D.V.M., M.A.M, diplomate A.C.P.V with Chicken Scratch, LLC
Current Health Issues in Poultry Medicine
• Philip H. Hargis, Ph.D. with Hargis & Associates
Nutritional Opportunities for Salmonella Control in Feed Programs
The seminar concluded with the introduction of three new Salmonella control products. First, AquaGuard, a Liquid water administered product for both poultry and swine. Additionally, two premix products for poultry. First, Sustain, a nutritional microbial control that contains no drugs or antibiotics! Sustain Premix can be used in the finished feed of all species of poultry. Sustain controls Salmonella and allows the poultry producer to remove all antibiotics from the feed formula! Control with no antibiotics, WOW, just what the market is demanding. Lastly, Intervene, a product similar in design to Sustain, however it includes the compound Narasin and can only be fed to broilers. The day's events concluded with a winery tour and wine tasting at the Chateau Elan Winery and an elegant dinner there in the winery itself. It was the perfect ending to an eventful day, where good food and fellowship was enjoyed by all.
For those of you who were unable to make it to this year's seminar, we hope to see you at VIV Bangkok and stand 104C040.
Thank you for trusting us to serve you. We truly appreciate the opportunity you have given us to fulfill your needs.