Old Stone Fort Water-Soluble Poultry Products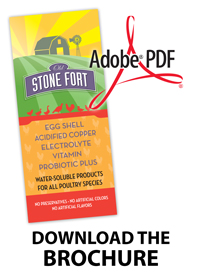 Designed for all poultry species, the OSF line of products is ideal to meet the needs of the backyard poultry producers.
OSF products supply supplemental nutrition often lacking in backyard production. OSF solutions include products to maintain:
Optimal bird health
Proper digestion
Healthy gut function
Eggshell quality
Proper hydration
Conveniently packaged to fortify five gallons of drinking water.

Balanced electrolyte with Vitamin C for proper hydration
BENEFITS
A potent source of supplemental electrolytes and Vitamin C. Aids in the maintenance of healthy fluid balance and retention. Hydrates cells and reduces electrolyte loss during periods of heat or handling stress.
Supports optimal bone health
Vitamin C aids in stress reduction

An aid to maintain healthy gut function
BENEFITS
Provides a superior, soluble source of supplemental copper. Aids in the maintenance of proper gut function and reduces the occurence of wet droppings.
Helps to minimize wet droppings
Copper is a key component of enzyme systems
Helps maintain a healthy skeletal system
Convenient package for backyard flocks
Formulated for all poultry species

Vitamins to maintain optimal bird health
BENEFITS
A superior water soluble source of essential vitamins for all species of poultry. High vitamin concentration maintains muscle and heart function. Essential for healthy skin, feathering and reproduction. Maintains electrolyte balance during periods of reduced feed consumption and stress.
Antioxidants to support the immune system
B Vitamins support proper growth
Vitamin D to maintain proper bone development

Calcium and Vitamin D vital for eggshell quality
BENEFITS
A premium source of soluble calcium, energy, vitamin D and micro-minerals essential to development of properly formed, durable egg shells.
Calcium is required for strong eggshells
Vitamin D supports calcium absorption

Synbiotic blend to aid proper digestion
BENEFITS
Synbiotic multi-species microbial blend with prebiotics, fortified with micronutrients to enhance digestion and nutrient absorption. Stabilized to work in chlorinated water. Provides more efficient meat and egg production while protecting normal gut function with stable beneficial bacteria.
Probiotic blend for optimal gut function
Supports a strong immune system
Aids in protein digestion
Prebiotics support probiotic growth
Stabilized for maximum efficacy in chlorinated water