In October, the Office of the Texas State Chemist reviewed and approved a new zinc source for the State's feed industry- zinc hydroxychloride.  The new mineral joined its already-approved copper companion- copper hydroxychloride (also formerly known as tribasic copper chloride).  A manganese variation is awaiting approval.  You may have also heard these products identified with their "Intellibond®" trade names, all produced by Indianapolis-based Micronutrients.
Traditionally, minerals have been categorized as either organic or inorganic, based on whether or not they had a carbon-containing bond.  A newly defined category of trace minerals, known as hydroxy trace minerals, has a unique OH group that is bonded covalently to the metal. This is what differentiates hydroxy trace minerals from other organic or inorganic minerals.
In this issue of The Science Quarterly, Micronutrients takes an opportunity to introduce their line of hydroxyl trace minerals to readers. The introduction of IntelliBond trace mineral (zinc, copper and manganese) represents the most recent, cost effective advance in trace mineral nutrition for livestock.  Each IntelliBond trace mineral is composed of a fully defined crystalline structure that provides several unique benefits to livestock producers.  In ruminants and monogastrics, this includes increased stability of essential nutrients such as vitamins, fats, etc. in premixes, supplements and feeds.  In ruminants, IntelliBond trace minerals completely by-pass the rumen, escaping the antagonists that can significantly reduce trace mineral bioavailability in the animal.  In monogastrics, IntelliBond's crystal matrix and unique bonding structure join forces to increase product integrity in the upper digestive tract resulting in more bioactive product being delivered to the intestinal tract, significantly reducing the amount of trace mineral required to optimize animal productivity and well-being.  Of great importance is the fact that each IntelliBond trace mineral provides nutritionists with the opportunity to cost effectively eliminate the use of inorganic trace minerals (sulfate / oxides) within their clients' nutritional programs. It has been long known that sulfate trace minerals can negatively impact the integrity of other essential nutrients present within feeds. Making this worse is their known interaction with antagonists present within the digestive tract that act to significantly limit the bioavailability of the trace mineral to the animal. Unfortunately the only solution to this challenge has been the use of organic trace minerals, which do provide a higher level of stability and trace mineral bioavailability but significantly increase the cost of the diet.  IntelliBond trace minerals offer nutrition professionals a research proven alternative to the status quo. Given the lower cost of IntelliBond products, nutritionists now have the option to replace all inorganic trace minerals in the diet rather than just a small percentage at a fraction of the price that would be required to achieve the same level of stability and bioavailability achieved in the combined use of both inorganic and organic trace mineral forms.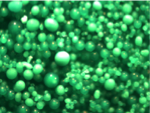 Since beginning business in 1996, Micronutrients has quietly become the second largest provider of trace mineral nutrition to the NA market. Micronutrients has grown its business based on the proven efficacy of its products and its commitment to consistent product quality. Micronutrients is very proud of its ongoing relationship with many of North America's largest livestock producers, which has continued to grow over the past 15 plus years. Micronutrients is now actively involved in the process of scaling up its internal staffing, research commitments and infrastructure to support the increased use of its products within the North American ruminant markets.
Individual products offered by Micronutrients include:
• IntelliBond Z (55% zinc)
• IntelliBond C (58% copper)
• IntelliBond M (44% manganese)
Additional benefits that only IntelliBond trace minerals deliver include the products' higher potencies and improved handling and mixability features.  These features provide nutritionists with added formulation flexibility and increased confidence that each trace mineral will be effectively distributed within the feed.
For additional information on how to put IntelliBond trace minerals to work for your clients, we ask that you contact your Animal Science Products representative to discuss the products' application and value within your programs.
– See more at: https://www.asp-inc.com/blog/741/#sthash.Bsgh057a.dpuf