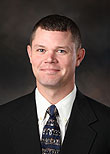 Animal Science Products Inc. is proud to announce that Mr. Kyle Adkison has rejoined the company's sales team. Mr. Adkison is a native of Texas, a graduate of Stephen F. Austin State University, and a retired Marine.
For the past year, Mr. Adkison has been in animal health sales in Texas. Mr. Adkison will have the responsibility of Territory Manager for Northern and Western portions of Texas, Eastern New Mexico and Oklahoma.
Commenting on Mr. Adkison's appointment, Kevin Matter, Animal Science Products' Feed Additive Business Manager said, "We are pleased to have Kyle return to our team and look forward to using his experience to better meet our customers' needs." Animal Science Products, Inc. is a family owned and operated business that was founded to service all facets of the feed and food animal production industry. The firm produces and distributes a full array of high-quality feed additives, micro ingredients and premixes for all species. Animal Science Products also serves the livestock, poultry, and companion animal markets with nutritional and health-related packaged goods. The company currently has sales in twenty three states and twenty five countries.