Animal Science Products, Inc. Welcomes
Agrovet Alliance from the UAE for Facility Tour in Texas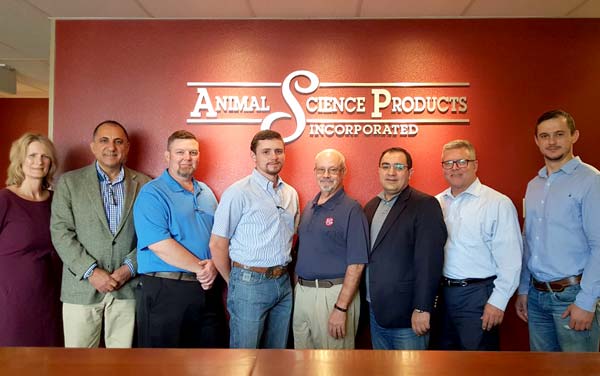 Nacogdoches, Texas – Animal Science Products, Inc., an industry-leading manufacturer and global leader in vaccine stabilizers, gel application products, and non-antiobiotic intervention products, welcomed our UAE Distributor, Agrovet Alliance, for a plant tour and general meeting.  Our guests representing Agrovet were Reza Nick Nikooforsat, Managing Director, and Dr. Dieyar Kakel,Vice President of Business Development MENA & Indian Sub-Continent, who is relatively new to the company.  The meeting concluded with a tour of our facility and discussion surrounding our quality program.
"ASP remains committed to providing Agrovet Alliance with the very best products and services available," says Bailey Reynolds, President and CEO. "We are here to serve Agrovet, who has placed their trust in us, and to continue to build a team of people that can carry forward our brand in their marketplace. We hope to continue to provide our products and services for generations to come."
Animal Science Products, Inc. is a family owned and operated business that was founded in 1985 to service all facets of the feed and food animal production industry.  The company currently has sales throughout the U.S. and in over 30 countries.